Route
- Car & Motorcycle
You can reach the Zillertal from Salzburg, Munich or Vienna over the Inntalautobahn (A93-E45), exit Zillertal, and the B169 in the direction of Mayrhofen and onwards to Ginzling. Another possibility is travelling through the Salzachtal
(B311), coming from Zell am See over the B168, B165 and the B169 to Mayrhofen and onwards to Ginzling.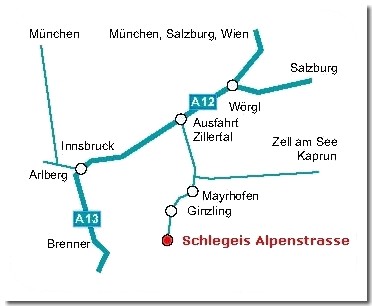 The Schlegeis Alpenstraße starts at the alpine village of Ginzling. The 13,3 km long Schlegeis Alpenstraße starts at 1.000 m altitude and leads over eight hairpins and four tunnels of natural stone to the parking areas at the Schlegeis reservoir
at around 1.800 m above sealevel. Along the street you will see some marked points of interest, e.g the fotospot Schlegeis dam. The single lane part of the road between the tollbooth "Breitlahner" and the Spiegelschlagtunnel II is regeulated by traffic lights, the waiting period however is 15 minutes at the maximum.

Evening guests please notice the following:

From 18.30 hours the toll station is no longer occupied. The access to the Dominikushütte is however (toll free) still possible. Please proceed as follows: Go to the traffic light and push the red button. Now you have activated the traffic
light system. After approx. 9 minutes the light turns to green. (For questions: Telephone +43 664 7329 6939)


Routeplanner Google-Maps


View Larger Map

- Train & bus

From Jenbach station, with the Zillertalbahn to Mayrhofen. From Mayrhofen station by bus to Schlegeis.
Links:
Online timetable information ÖBB

Timetable Zillertalbahn

Timetable bus Mayrhofen - Schlegeis (not available yet, will follow quickly)